Additional Services
Enterprise Bank's Online Banking allows you to bank from anywhere. You can access your bank accounts at any time, from your home or office at your convenience, putting you in control of your finances.
The benefits of online banking:
Transfer money between your accounts with ease
Schedule recurring transfers between accounts
View account balances at any time
View account history and previous transactions
View check images
Online Bill Pay*
Make loan payments
Submit Stop Payment requests
Download your information into Microsoft Money & QuickBooks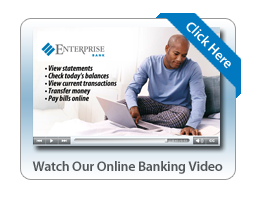 Optional Bill Pay Service

With Enterprise Bank Bill Payment Service you are in control. With our payment guarantee your payments will arrive when you choose. You can also receive E-Bills online and elect to pay any or all of them automatically.
*Customers must be enrolled in Online Bill Pay
Coming Soon! 
Enterprise Bank offers you an on the go solution to manage your finances. Our mobile banking feature allows you to access your accounts directly from your mobile phone with a streamlined version of our desktop site.
Tele-Banc offers customers' convenient touch-tone banking available 24 hours a day.
Tele-Banc allows you to:
Check your balance & last deposit
Transfer funds between your accounts
Provides you with interest information
Access our Tele-Banc system any day of the week by dialing 1-877-653-1800. Simply follow the menu to access the free service.
At Enterprise Bank we continually strive to provide an excellent customer service experience. In addition to our everyday banking products we offer the following services.
Treasury Checks
Automatic Loan Payments from your account
Night Depository
Mail Deposit
For more information please contact us 877-604-5705 or stop by any of our branches for assistance.